(717) 892-7337

jurbanhpah@
comcast.net

2449 Harrisburg Pike
Lancaster, PA 17601
Fax: (717) 892-0314



---
Office Hours
Monday - Friday
8:00am to 7:00pm
Saturday
9:00am to 12:00pm
(for non-doctor appointments, med & food pick-ups only)
Closed Sunday
---
Boarding Hours
Monday - Friday
8:30am - 6:30pm

Saturday
9:00am - 11:00am

Closed Sunday
HPAH
Staff
Dr.
Jeff

Pendleton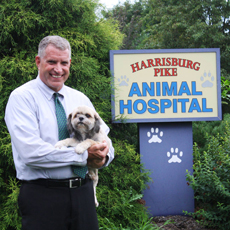 Jeff Pendleton, D.V.M. graduated from Allegheny College in 1985 and Minnesota College of Veterinary Medicine in 1989. A native of Erie, Pa, he and his wife, Evelyn, moved to Lancaster in 1995 and started Harrisburg Pike Animal Hospital the following year. Their family consists of their 3 children: James, Scott, and Diana; 3 dogs, 2 cats, 2 bearded dragons and a Russian Tortoise. In his spare time, Dr. Pendleton enjoys jogging, reading history books, and skiing.
Jessica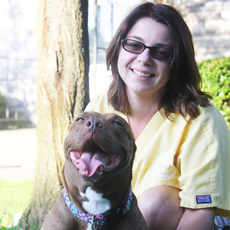 My name is Jessica Urban and I'm the office manager at Harrisburg Pike Animal Hospital. I've worked here since October 2000. My love for animals developed at an early age from growing up on my family's 86-acre farm. I currently live in Columbia with my husband, Matthew, our daughter, Anya, and our son, Austin. We live with 3 dogs, 3 cats and 3 turtles as well as the numerous animals that come to stay with us through my business Your Place or Mine Pet Sitting Inc.
Jess B.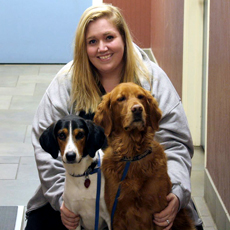 Hi! I'm known as Jess B. here at HPAH. I've been working at HPAH since 2007 on and off throughout high school and college. I became a full-time veterinary technician in June 2014! I have 2 dogs, a Golden Retriever named, "Layla," a Hound mix that I rescued named "Lucy" and a cat that I rescued named, "Clarice." On my free time I spend it with my husband, 3 kids and my fur kids and enjoy photography. I absolutely love meeting all your loved ones and look forward to care for each one of them as they were my own.
Allison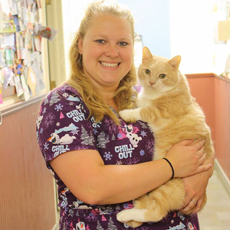 Hello! My name is Allison Jones. I have been working for Dr. Pendleton since 2015. I graduated from Lancaster County Career and Technology Center in 2014 with a specialized associate's degree in veterinary care. I have two cats named Simba and Nala and a bunny named Thumper who mean the world to me. My favorite animals are killer whales and big cats. Every animal deserves a long and happy life and that is what I plan on accomplishing while working at Harrisburg Pike Animal Hospital.
Annisa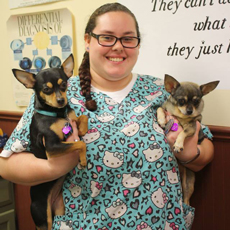 Hey my name is Annisa! I graduated from Harcum College with Associates in Science. While I attended college I studied animal center management which is a split degree between business and veterinary technician. I currently have 2 lizards, a snake and a hamster. Ever since I was little I always knew that I wanted to work with animals when I grew up, but didn't know for sure what I wanted to do exactly. I ended up shadowing my aunt who is a veterinarian and that made my decision that I wanted to be a vet technician. For a while I went to my family farm every summer to help my uncle take care of his cows. Once I was done with college I had the opportunity to get an internship at HPAH. I'm glad that I got hired because I've always wanted to work for Dr. Pendleton.
Kate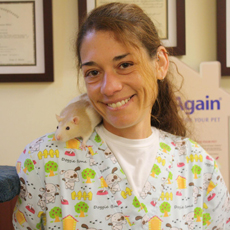 Hi there! My name is Kate and I started working here at HPAH in 1998! I have a 12 year old cat, "Miho" that I rescued from HPAH, a pet rat name "Sprinkles," and a class mouse named "Fudge." I also have a full-time job as a personal care assistant for the IU13. You will see "Hugo," Dr. Pendleton's blind French bulldog go on adventures throughout Lancaster County and I am his chaperone/travel companion! 😊 I love all animals as they're my own and look forward to meeting and helping your furry loved ones!
Brandie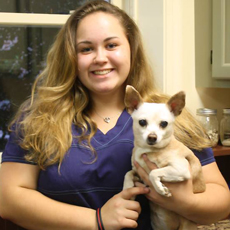 Hey I'm Brandie! I'm currently a senior at Hempfield High School and attending CTC to become a certified veterinary assistant. I have 1 sister and 1 brother. I've been working for my family's company, "Diamond Estate Sales," since I was 11. I was a volunteer milker every Sunday and raised 5 steers! I currently have 2 dogs, Angus and Oskar. I look forward to helping all the animals that walk through the door and continuing my education in the veterinary field!
Lexi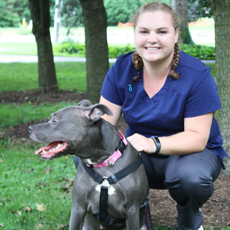 Hi my name is Lexi and I am a freshman in college at Penn State majoring in animal science. At home I have a blue pit bull named "Meeka." I enjoy going on hikes or exploring with my dog. The best part about working at an animal hospital is saving an animals life. You grow special bonds with the owners and most importantly with their pets. I love working with animals all day and then going home at night knowing that I did the best I could to help someone's pet because to them, that is their family.
Diana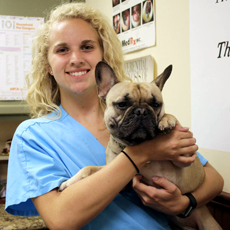 Hey there! My name is Diana Pendleton. I'm currently studying biology on the pre-vet track at Allegheny College. I run collegiately for Allegheny's varsity Cross Country and track and field. I started working at HPAH in 2010 and will be working at HPAH during the summer months. Starting the summer of 2017; I'm a part-time assistant at PETS. I have 3 dogs, Oreo, Spencer and the famous Hugo. My dream is to become a veterinarian and work along a side my father, Dr. Pendleton and to take over Harrisburg Pike Animal Hospital one day.
George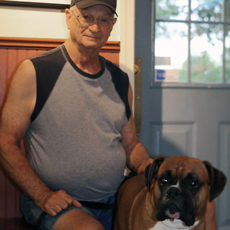 My name is George and I've been on staff at Harrisburg Pike Animal Hospital since 1999 doing hospital building maintenance and repairs. I also work in the kennels. I've been married for 56 years. I love sports and have played senior softball. I have a Boxer named Maximus.
Matt
My name is Matthew Urban. I've worked for Dr. Pendleton since 2001 as a weekend kennel technician. I have a great love for animals and enjoy being around them every day. I'm a native of Lancaster County and currently live in Columbia with my wife, Jessica, our daughter, Anya, and our son, Austin. We live with 3 dogs, 3 cats and 3 turtles as well as the numerous animals that come to stay with us through my business Your Place or Mine Pet Sitting Inc.